Art Students Present Works at Gallery 104
Sculpture and photography students will display their artwork downtown at Gallery 104 throughout the months of December and January.
Truman students featured in the exhibition include Madi Pearson, Madee Richardt and Larissa Sullivan from sculpture, as well as students Stephanie Best, Athena Geldbach, Austin Hornbostel, Haley Johnson, Madison Kamp, Lu Meng, Kara Nord and Zoe Zaiss from photography. Sculpture students worked under the direction of instructor Danielle Yakle, and photography students worked with instructor Amanda Breitbach.
Gallery 104 is located at 104 N. Franklin St. and is open from 11 a.m.-5 p.m. Thursday through Saturday, with extended hours on Friday evenings until 7 p.m. The gallery will be open daily, Monday through Saturday, from Dec. 12-23.
In addition to this display, the community is invited to a special reception at the gallery Jan. 6, featuring work by artist Judy Harris.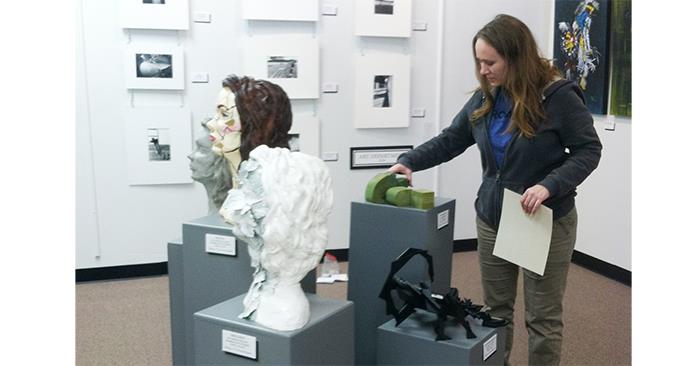 Professor Danielle Yakle puts the finishing touches on the display of student work at Gallery 104.