Truman Students Win Gould Scholastic Award
Two teams of Truman students received first and second place in the Robert L. Gould Scholastic Award, earning a combined $17,500.
The Gould Scholastic Award recognizes outstanding students who write papers on designated topics related to the financial services industry. This year, submitted papers were expected to address the potential impact of technology and innovation on the financial services industry and its services models during the next 10 years.
First place and a $10,000 cash award went to Truman students Julian Fung, a business administration and computer science major, and Lasse Fuss, an interdisciplinary studies major, for their paper, "Capturing Value from Millennials with Integrated Financial Technology."
Second place and a $7,500 cash award were presented to accounting and business administration majors Ly Dong and Shane Legatzke for their paper, "Mobile Advising—The Future of the Financial Services Industry."
Students from Avila University, the University of Kansas, Park University, Saint Louis University, Truman State University, the University of Missouri – Kansas City, Northwest Missouri State University, the University of Central Missouri, Baker University and Kansas State University were eligible to compete.
Winners were selected based on the evaluations of representatives of DST, a global provider of specialized technology, strategic advisory and operations outsourcing to the financial and health care industries.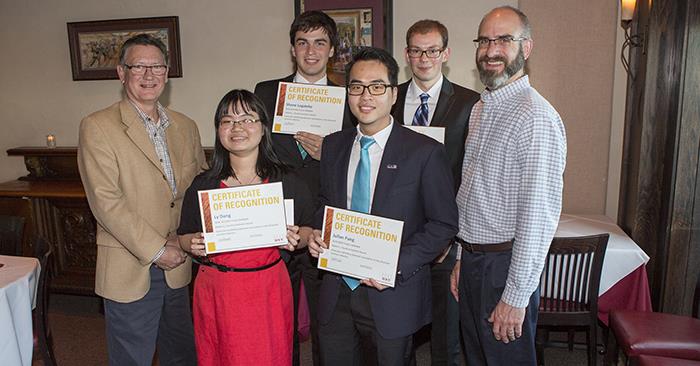 Truman students who took first and second place in the Robert L. Gould Scholastic Award display their certificates of recognition. Pictured, from left: Chuck Boughton, faculty mentor, Ly Dong, Shane Legatzke, Julian Fung, Lasse Fuss and Matt Gould, son of the award's namesake.