Music Student Gets Quick Lesson in Opera Production
Anyone who believes art cannot be rushed should ask senior Traix Heiden his opinion on the matter. This summer, Heiden had the opportunity to travel to New Orleans and help create an opera in just three days.
The Opera Presto Project is a unique undertaking that brings together composers, librettists, directors and singers with the goal of producing a completed score of an opera in an abnormally short time.
Heiden, a senior music major, discovered the Opera Presto Project on a website for composers seeking contests, workshops and career opportunities. After applying as both a writer and composer to increase his chances, Heiden was eventually selected to write the libretto, a specialized form of script for operas and other extended musical works. It was a natural fit for a student who came to Truman with the intent of pursuing a fine arts degree in either creative writing or music, but the task was not without its difficulties. Although he prefers to write vocal music, Heiden had little experience in the creation of opera, which contains both musically dramatic arias, as well as recitative elements closely related to spoken word.
"Operatic music is a bit different from other types of 'classical' vocal music in that it is equally music and theatre," he said. "Balancing the various compositional techniques to facilitate dramatic progression can be difficult."
Of the 13 participants in the Opera Presto Project, Heiden was one of only two undergraduates involved. Working in conjunction with a composer, he had from 2 p.m. Thursday until 8 a.m. Friday to complete the 15-minute opera. The finished product, entitled "Persephone," was then performed at 7:30 p.m. Saturday.
While most people are uncomfortable working with short deadlines, Heiden saw many benefits from his involvement with the venture.
"The experience of working on such a fast-paced project like this is valuable because being able to work quickly and efficiently while producing quality art opens up more possibilities, more opportunities," he said. "Though I went as a librettist, I learned not just about writing, but music composition and the process of making a production come to life as well."
Heiden plans to attend graduate school after his time at Truman, and eventually hopes to have a career as a professional writer and composer. Because of the positive involvement he had with the Opera Presto Project, he continues to seek other transformative experiences that can aid him in the future. This summer he also attended the University of Missouri-Kansas City Composition Workshop for the second time. He plans to apply for the Opera Presto Project again next year, as well as similar endeavors that will allow for creative collaborations.
"Collaboration is a valuable experience for artists of all disciplines," Heiden said. "The process can shed new light on what art means to different people, and is great exposure for experiencing various creative processes — how one artist works differently from another."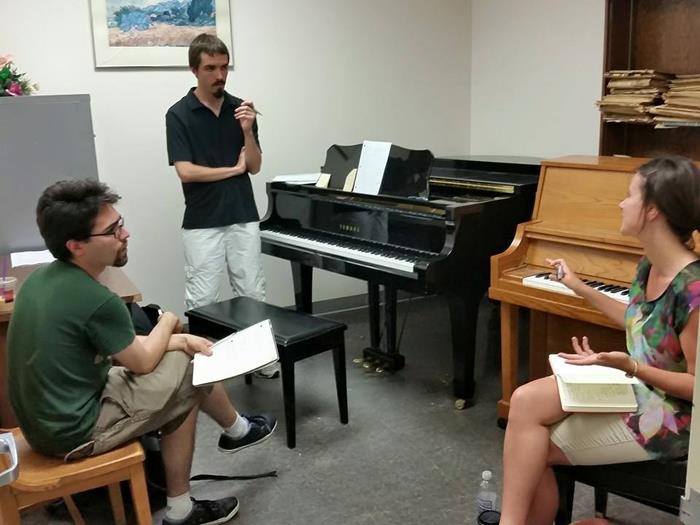 Traix Heiden (standing) works with Alexander Trice (left) and Monica Pearce during a brainstorming session for the Opera Presto Project. Heiden, a senior music major, was responsible for writing the script of an opera that was created and performed in less than three days.